WHY EXHIBIT WITH US
Brand Exposure:  The 2021 Kodi's Paw-a-Thon attracted a large variety of pet lovers and owners.
Any organisation or brand with a desire to develop and raise their profile and grow their business should consider exhibiting at 'Hand n Hand – Kid's n Paws'.
The diverse nature of the festival and the broad range of solutions sought by a large number of attendees open the event to exhibitors from a variety of industries–fulfilling needs within the dog niche.
Click below to download our event booklet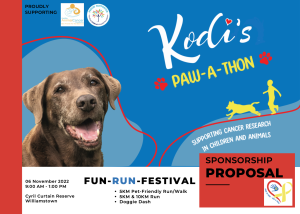 If you would like to donate products for prizes, exhibit/stallholder or a be a sponsor:
PREVIOUS EVENT STATISTICS
200 Runners and 90 Pups
The event was a great success, with around 200 runners, and 90 pups, with even more event attendees.
Raised close to $7,000
We held our inaugural Pet-Friendly Fun Run on 23 May 2021 and raised a total of $6416.20, despite the pandemic scare.
 Supporting local businesses
COVID-19 has significantly impacted local businesses, and this event allowed participants to meet and interact with pet business owners.
STORE HOLDER BENEFITS
1. Increase Brand Exposure
Your brand will be included in our list of stall holders on the website and in our marketing collateral for further brand exposure.
2. Multiple Event Attractions
The event has been organised to include multiple attraction and engagements through out the day (eg: doggie dash, entertainment etc.) to keep the audience at the location for a longer time.
3. Print and Digital Media Exposure
Through our various marketing strategies, we bring your brand to life through print and digital exposure.
4. Higher Event Attendance
We anticipate a higher event turnout than our previous event, including a higher event runners and attendance.
5. Access to Target Audience
We provide exclusive access to your potential customers, allowing you to collect leads, expand your database and make sales on the day.
6. Sell your Products and Services Marquee
We provide a platform for you to sell your products and services to a buy ready market.
STORE HOLDER OPTIONS
If you are a business that would like representation at our event, we would love to have you
Find out when we plan to run the next event